Large Rattan Furniture Sets
Large Rattan Furniture Sets
There are times when standard rattan furniture just isn't suitable for everyone. Some families have more than 1 child or you may live with other members of your family meaning that a simple 4 seater just isn't enough. You may also be a top entertainer amongst your friends so having everyone around on a regular basis is important to you. Therefore, we have tried to put together some ideas for larger rattan furniture sets so that entertaining is less stressful and far easier to enjoy!
One of our top favorites for larger rattan furniture dining sets is the trustworthy cube sets. These are great for entertaining large groups of people. These come in 4, 6, or 8 seater sets and can easily be made larger. Because the rattan cube sets are square, they can easily be put together to help make room for more, and more and more people. Put 2 6 seater sets together and instantly you have seating for 12. The benefits are that it will simply look like 1 big table! Perfect!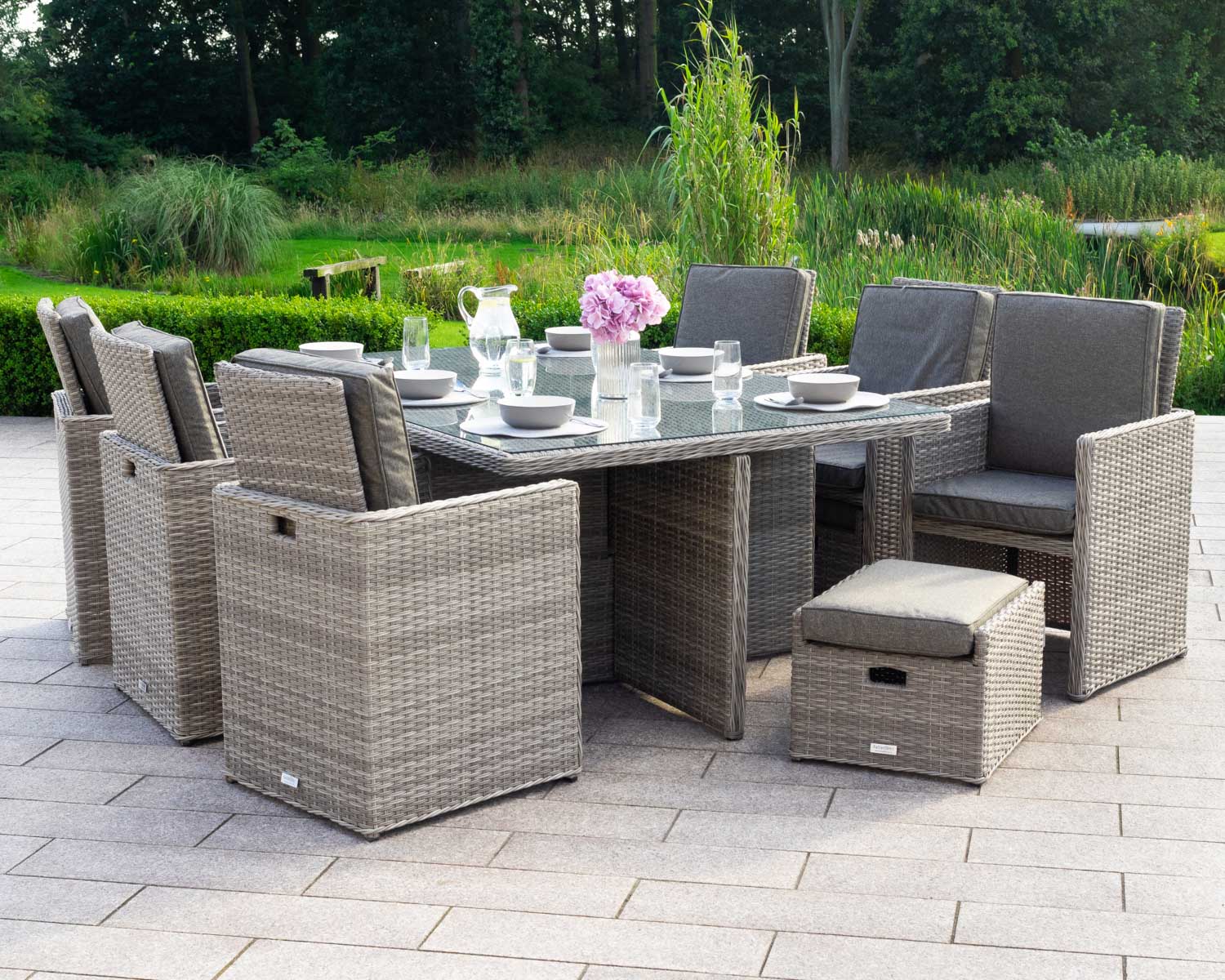 There are also some lovely hidden benefits with rattan cube furniture. A lot of the sets we offer some with added rattan footstools which neatly hideaway under the main seat. These can be pulled out and used for extra seating for when that extra guest turns up that you didn't know was coming!
With large parties, you often need a large amount of space. With the rattan cube sets' unique design this space isn't compromised when you are not using the furniture. With its compact design of the chairs storing themselves neatly under the table, it means that a rattan cube set will not encroach onto your much-loved garden space when it's not being used. These sets are compact and amazingly comfy when needed.
[product_category per_page="8″ columns="4″ orderby="rand" order="ASC" category="cube-sets"]
Next on our list of great furniture for entertaining large groups of people are the rattan corner sofas. These are surprisingly spacious and offer great flexibility when needed for you and your guests. The rattan sofa sets again do not encroach too much onto your valuable garden space and can sit very nicely in a shaded corner or on the edge of your patio leaving much-needed room for a matching dining table.
As with a lot of rattan garden furniture, these rattan sofa sets are modular in design meaning it is very easy to not only expand them as needed but you can also re-arrange them to suit your garden shape or the number of people coming to your party. It's possible to buy a couple of extra middle sections from our individual rattan pieces range. Alternatively, you could have 2 sofas pushed together to make a large 'U' shaped seating area with a beautiful fire pit in the middle to keep everyone warm and cosy. Be imaginative and the possibilities are endless!


Depending on your party style, or your family activities you may want a more relaxed set up for your garden. Somewhere that you can all go and just relax and chill out and snuggle up as a family while you enjoy the summer sun. If this is sounding good then a rattan daybed is what you should be getting. With a rattan daybed, you can fit plenty of people, either sitting or laying down. The added attraction to this is that when it's just you on your own, you can spread out and relax very easily!
With a rattan daybed, you will need a lot of space in your garden. These rattan daybeds do take up a lot of floor space and they are not compact in their storage either. If you have space where a rattan daybed can be out all of the time then it's a great choice. With it being rattan furniture as well it will happily sit outside throughout the ever-changing British weather. We do always advise you to keep your furniture covered when not in use as this just keeps all the leaves and any bird droppings off your nice furniture leaving t ready to use at any time!

Outside dining is becoming very popular with more and more people deciding to spend time at home and enjoy their gardens. The range of rattan dining furniture is ever-growing and with the demand for larger, extending rattan dining tables it needs to!
Extending dining tables are now available more than ever. With the need to be able to accommodate more and more people for parties and home dining, this provides an excellent solution. Extending rattan dining tables offer you the option of pulling out an extra tabletop section which is normally hidden. This allows the table to become longer so you can spread people out and accommodate more food and drink or simply add extra chairs to increase the seating capacity.
[product_category per_page="8″ columns="4″ orderby="menu_order title" order="ASC" category="8-seater-dining-table-sets"]
All of these options provide different solutions and options for accommodating larger groups of people in your garden. We have hopefully covered some of the pros and cons of each to help you make a more informed choice when you come to purchase your rattan garden furniture. As always, if you have any questions or queries then please feel free to get in contact with us and we will do what we can to help provide further advice.