How to choose your rattan dining set?

When you look around your garden you will probably have some or all of the items listed below:
Garden Shed
BBQ
Washing Line
Flower Border
Old Mismatched chairs?
For most, we quite often put up with what we have in the garden, especially when it comes to the garden furniture. We underestimate the impact that some well-chosen rattan garden furniture can actually have on the garden. The main area we are going to focus on today is the benefits of having a well-chosen Rattan Dining set for your garden. So let's get started…..
When chosen correctly, not only can a functional rattan dining set make a garden look amazing, it also provides more functionality than most other garden furniture options. The shape and size of your garden will heavily affect the type of furniture that is recommended. We will get into these shortly further down the article but for now, let's look at the benefits of each type of rattan dining set.
A quick look at the Rattan Bistro Sets

We start with our smallest style of dining set, the Rattan Bistro set. This set is mostly 2 seater and will offer an intimate dining experience for 2 around a small dining table. There are huge benefits for this type of dining but with the limit of 2 seats, isn't really a family and friends entertaining setup.
[product_category per_page="3″ columns="3″ orderby="menu_order title" order="ASC" category="rattan-bistro-sets"]
Moving onto the popular 4 Seater Rattan Dining Sets
The next option up is the standard 4 seater rattan dining set option. These are by far the normal choice for most families and by far the highest seller when it comes to rattan dining sets. The options start to open up at this level of dining sets and you can start looking at styling.
Do you want a round, rectangle, or square table?
Do you want normal chairs, high back chairs, or armchairs?
Do you want a riser table or a standard table?
Do you want stools with your chairs?
Do you want a standard dining set or a compact rattan cube dining set?
[product_category per_page="3″ columns="3″ orderby="menu_order title" order="ASC" category="4-seater-dining-table-sets"]
A lot of people don't realise that there are so many options to consider when coming to buy their rattan garden furniture. as you will discover further down this article, some can be very important when looking for the right style for your garden.
Getting bigger with 6 Seater Rattan Sets
After the 4 seater dining sets, it comes to the 6 seater rattan sets. These again take it to a different size level for most. Some sets are the same as the 4 seater sets but simply have 2 extra chairs, nothing more. The same questions above will apply to the 6 seater rattan sets as well so once these general questions are answered, it should just be a case of 'How many chairs do I want!'
[product_category per_page="3″ columns="3″ orderby="menu_order title" order="ASC" category="6-seater-dining-table-sets"]
All the way upto 8 seater Rattan Dining Sets
The next level up is onto the 8 seater rattan dining sets. These are currently the biggest outdoor dining sets that we offer and should be more than accommodating for most garden setups. These dining sets come in rectangle and round styles, all with matching chairs. Again, some of the chairs can be high back compared to others which are standard style. You may also see some other features become available, especially on the tables. Some will now be available with either a lazy Susan or a firepit in the middle. This is helped by the size of the table that is needed to be able to accommodate 8 people.
[product_category per_page="3″ columns="3″ orderby="menu_order title" order="ASC" category="8-seater-dining-table-sets"]
So, how do i choose my garden furniture?
So now that we have gone over the initial styles of furniture, we should now be able to put together a list of what we want from our furniture and start matching it to our outdoor garden space. This can sometimes mean difficult decisions as to the furniture set that we have fallen in love with simply won't fit into the garden space we have, so let's see how we can sort this out.
So, let's start small. A Rattan Bistro Set is a fantastic option where space is limited. These are ideally suited for people with only balconies or small verandas where you simply couldn't have many people. So be sensible and make this space look amazing with a beautiful Bistro set and some other small accessories. Don't dismiss a bistro set as an additional seating area for a small secluded area in your garden. If you have a little snook or just a small patio area under a pergola at the end of your garden then a small rattan bistro set is again the perfect seating option for this intimate personal area.

Family Favourite - Should i choose the 4 seater dining set?
As we mentioned above, the 4 seater option is by far the best seller, mainly because it fits perfectly into most household families and spaces. The ability to have four people, usually perfectly suited for most families, sat outside for lunch is what most people want. For this, the size of the garden is still relevant. If you have a fairly spacious garden then a standard 4 seater rattan dining set is a great option. If you are a bit tight on space and want something that can be stored away easily and neatly then be sure to look at a rattan cube dining set.
With a rattan cube set, the storage is built in! They are called a 'Cube' set as once the chairs are all pushed underneath, the whole table and chair setup forms a compact cube. If you need a little extra then you can get these rattan cube sets with some rattan footstool that go under the chairs, again not requiring any more storage space.
If you are a regular entertainer and enjoy having friends and family around then a 6 seater or 8 seater set will be something worth looking at. With these, think of the shape of your garden and also the space available. Also, consider the styles that you already have in the garden. Is your patio round? If so then a round table set would probably fit better. Do you have a long bordered patio? Then for this style, the long rectangle style table with matching chairs is probably the best bet. From a design perspective, the long lines of the table will match the long lines of the patio.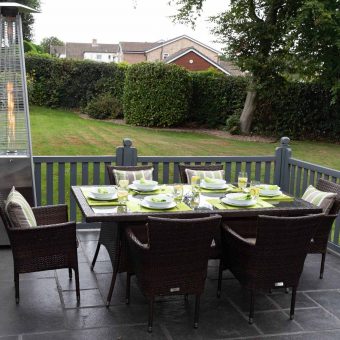 If you are an entertainer then you are probably a bit more relaxed and carefree. Alternatively, you might be the direct opposite and be the kind of person where everything has to be perfect? Don't be afraid to experiment and try things differently. How about if you put your long rectangle dining table on an angle across your patio from corner to corner? This can make the whole dimension of the patio look bigger and allow the table to become more of a feature rather than just a table.
Conclusion for Rattan Garden Dining Sets
By now, hopefully, you have plenty of ideas and also plenty of answers to help you decide which patio set is right for you. Before you go off looking, there is 1 more small consideration to make. Do you already have rattan furniture? Do you need to match this furniture or will the pieces be far enough apart to make their own statement? Just consider what pieces will match and what pieces will be ok to make their own statement.
Good luck with your shopping, if there are any doubts then please continue reading our articles or simply drop us a mail and we will do what we can to help you.
[product_category per_page="12″ columns="3″ orderby="menu_order title" order="ASC" category="dining-table-sets"]